Repairs

New Products

Pre-Owned Products

Information

Interesting Stuff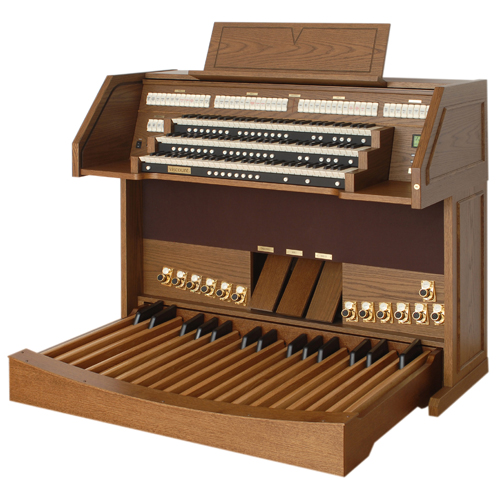 The Vivace 90 Deluxe is a beautifull organ. All details in the Vivace Organs reflect the highest standard of Italian craftsmanship.
It has 3x61 Note Keyboards with Tracker Touch system
Thanks to the outstanding style flexibility, Vivace Organs can be played with up to 170 voices and all controls are easily accessible via the graphic display menus.
Toe pistons are available for maximum flexibility. The cabinet is available in dark, medium or light oak real wood finishing, rolling cover and matching bench. The vivace 90 Deluxe is equipped with a 32 Notes pedalboard.
| | |
| --- | --- |
| Keyboards | 3 x 61 keys - tracker touch keyboard |
| Pedalboard | 32 notes straight, str. conc., radiating conc. |
| Expression Pedals | Man. I - Man. III |
| Crescendo Pedal | Yes |
| Toe Pistons | I/P - II/P - III/P - III/II - I/II - III/I - Gen.Mem. 1-6 - Tutti |
| Stops | 46 (42 organ stops and 4 orchestra stop) |
| Total voices | 170 |
| Voices Style | 8 (4 preset and 4 user) |
| Orchestral Voices | 12 |
| General Pistons | 6 |
| Memory Banks | 8 |
| Controls | Set- Cancel - A.P. - Tutti - ENC - HR |
| Divisional Memories | 6 |
| Couplers | 6 |
| Transposer | +5/-6 |
| Divisional Midi Enable | Yes |
| General & Reverb volumes | Yes |
| Display | graphic 128x64 dots |
| Tremulant (Man. I, II and III) | Depth/Speed separately adjustable |
| Reverberation | 8 Types |
| Ensemble | Adjustable |
| Temperament | Equal - Kirnberger - Werckmeister - Pythagorean - Meantone - Vallotti |
| Keyboards Inversion | Available |
| Keyboards Midi Velocity | Programmable |
| Piston Combine III/P | Yes |
| 5 Band Equalizer | Available |
| Output Router | Yes |
| Midi Programmable | Yes |
| Demo Songs | 8 |
| Amplification | 3 x 70 Watt |
| Speakers | 2 tweeters + 2 full-range + 1 woofer |
| Midi In, Out, Thru | Yes |
| Stereo Headphone Out | Yes |
| Stereo Aux In | Yes |
| Stereo Line Out | Yes |
| Double Stereo Line Out | Programmable |
| Reverb Stereo Line Out | Programmable |
| Stereo Loudspeaker Out | Optional |
| Dimensions (DxWxH) | cm 69x143x124 |
| Dimensions (DxWxH) with pedalboard | cm 106x143x124 |
| Cabinet & Accessories | Cabinet in wood veneer dark oak, light oak or medium oak with Roll cover and matching bench |
Repairs on:
Allen
Arp
Baldwin
Bontempi
Casio
Conn
Elka
Farfisa
Fender
GEM
Hammond
Hohner
Kawai
Korg
Kurzweil
Leslie
Lowrey
M-Audio
Moog
Nord
Orla
Rhodes
Rodgers
Roland
Sequential Circuits
Technics
Thomas
Vox
Wurlitzer
Yamaha
..and others