Repairs

New Products

Pre-Owned Products

Information

Interesting Stuff
Organ Repairs
San Diegos Oldest and Most Experienced Organ Repair Company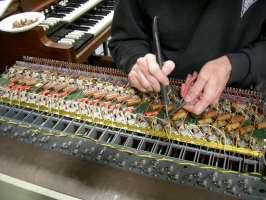 Our factory trained and deeply experienced service department has been around for 40+ years. We have worked on every model of organ, keyboard or synthesizer made during those years. "We have never found one we could not repair". Repairs done On Site or bring it in. "We Will Fix It".
Types of Organs we service
All electronic organs, tube , transistor and digital
Classical Church Organs
Home Organs
Hammond tonewheel organs like B3 C3 A100 M3 etc
Foot-pumped Parlor reed organs
Repairs done on site or bring it in to our shop.
In home service areas
San Diego
Oceanside
Escondido
Chula Vista
El Cajon
Other areas on request.
Request on site service
Repairs on:
AceTone
Adagio
Aeolian
Akai
Alesis
Allen
Arp
Baldwin
Behringer
Bell Duovox
Bontempi
Carvin
Casio
Conn
Cordovox
Crate
Elka
Emminent
Estey
Farfisa
Fatar
Fender
Galanti
Galaxy
GEM
Gulbransen
Hammond
Hohner
Kawai
Kimball
Kinsman
Korg
Kurzweil
Leslie
Lowrey
M-Audio
Moog
Nord
Orla
Rhodes
Rodgers
Roland
Samick
Sequential Circuits
Silvertone
Solton
Suzuki
Technics
Thomas
Viscount
Vox
Wersi
Wurlitzer
Yamaha
Young Chang
Zachary
..and others