You might get the impression you are looking at a regular analog style synthesizer. Nothing could be more right - nothing could be more wrong. Based on a legacy of inventing virtual analog synthesizers almost 15 years ago, Nord takes the new generation of lead synthesizers to the next level.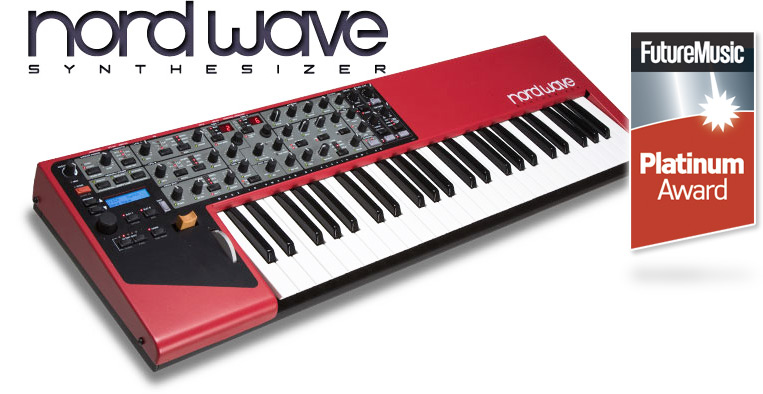 The Nord Wave gives you traditional analog sounds that interact and coexist with pretty much anything you want; by combining analog, FM synthesis, wavetable and sampled waveforms - you can use literally any standard audio file as a sound source. It is a great sample player and analog synthesizer, and so much more!
The introduction of sample players in the mid eighties created a gap in the world of synthesizers - a gap that twenty years later only has grown wider. The Nord Wave closes that gap, and brings the user replaceable samples to life again by integrating them in a virtual analog environment. Does the better of two worlds sound too pretentious for you? Wait until you have heard the Wave.
What it is all about
By having two oscillators capable of producing a vast array of sounds from classic analog waveforms (with sync), FM synthesis, wavetables, sampled waves (single cycle waveforms with attack) as well as noise and other miscellaneous waveforms, the Nord Wave has an unprecedented pallet of sounds for you to use as foundation.
Need a rich and full string quartet? No problem, just call up a string sample. Want a highly resonant screaming lead? Sure; virtual analog is there, but why not combine them, not just mix them together? With the Wave, you can create an analog lead with the harmonic content of the sampled string quartet!
With oscillator modulation you can transfer the character of one sound to the other - for instance, a sampled string to an analog square. By controlling the amount of modulation the effect can range from very subtle to extremely aggressive, so that the original waveforms are no longer recognizable.
Within moments you will experience sounds never heard before, sounds that will function as a great source of inspiration and lift the joy of playing and sound design to new levels.
Digital samples in an analog enviroment
The sound of a resonant filter with a 24 dB slope applied to a sampled sound brings it so much to life that some times this is all you need, but there are many other parameters available to affect your samples. All elements of an analog synthesizer can be incorporated: amplifier and modulation envelopes, LFOs, filters, and effects.
Some convenient sample modifications are also available. By using alternative start points, you can skip the attack portion of the sample and only use the body of the sound for e.g. modulation purposes.
Oscillator modulation
Oscillator 1 uses two types of oscillator modulation to bring out different characteristics to a blended sound: Phase Modulation and Frequency Modulation. Disparate sounds can be achieved depending on the combination of waveforms generated by the two oscillators – using oscillator modulation, particular characteristics of those waveforms can be seamlessly blended and enhanced to make a new kind of sound.
An analog triangle waveform will adopt much of the details of the modulating waveform and make an almost transparent, synthesized effect using Phase Modulation. An analog saw waveform will still sound hard when modulated, so wavetables can be used instead to create variations in tonal character.
Frequency Modulation has a more dramatic effect, widening the harmonic content and preserving more of the character of the original waveform.
High quality samples
Clavia online offers a large number of top quality samples specially created for the Nord Wave - available free of charge.
User friendly technology
By storing sample data in a Flash memory, existing samples can be easily and quickly replaced, including the factory preset samples.
Clavia's compression algorithm allows for, on average, 2 to 3 times data compression of any samples you want to download to the Nord Wave – without any loss of quality.
Flash memory also means that samples are instantly available, meaning fast load times even for complex programs. No hard drive or other type of media is needed for storing samples when you shut down the Wave; once the unit has powered up you have direct access to all the samples at the turn of a knob.
Use your own samples
The Nord Wave offers the unprecedented power to use any audio recording as an oscillator source in a virtual analog environment. Simply import any standard audio file to the Nord Sample Editor software, map it to a key, and you are ready to go!
The Nord Wave is compatible with the Nord Sample Library which makes your everyday stage-work a lot easier. With the free downloadable Nord Sample Editor software you can super-charge your Nord Wave with your own samples, or use the free samples provided by us.
The sample memory in the Nord Wave is 180 MB and our high efficient lossless compression algorithm makes it possible for us to use samples of up to three times the size compared to a standard linear sample player. The samples are automatically encoded within the Nord Sample Editor and decoded back in realtime when played on the keyboard.
This way we can preserve all the important character of a sound without having to compromise in quality.
Easy-to-use manager
The Nord Sound Manager, developed for OS X and Microsoft Windows, is designed to keep things fast and simple. Back up and rearrange programs, transfer Sample Instrument files. The Nord Sample Editor allows you to map your own audio files across the keyboard.
You will appreciate the same directness as you'll find on the Nord Wave panel, in the way the Manager and the Editor works. The Sample Editor includes several features to speed up the usually tedious job of arranging and adjusting individual samples. If you have a single audio file with chromatic (or any other interval) recording of each note, you will be up and running within seconds, it is that fast and intuitive to use.
Keeping functionality in focus, it provides the visual tools needed to do the job as fast as possible without a cluttered GUI. The Nord Sound Manager and the Editor will be powerful tools to get your samples into the virtual analog environment of the Nord Wave.
Two synths in one
Using the Slot function, you can seamlessly switch between two sounds without cutting off any sustaining notes, or you can layer two sounds together to create a massive sound palette. Everything is easily controlled by the Slot A & B buttons conveniently located near the pitch stick, mod wheel, and octave-switching buttons, making them as much performance controllers as programming features.
Modulation excecss
One way to assess the flexibility of a synthesizer is to look at its modulation capabilities. The Nord Wave comes with plenty of these with two LFOs with wide frequency ranges, one of these can actually double as an envelope if it is set to single cycle mode.
These two LFOs have five waveforms and seven modulation destinations each. And you do not have worry about using an LFO on creating vibrato, that important function has its own set of parameters. There is also a dedicated Modulation Envelope that can be set in AD or AR-modes, with six possible destinations.
Filter flexibility
High quality resonant filters are one of the most important ingredients when creating memorable sounds. The Nord Wave incorporates a total of six different high-quality filter types. Included with standard low-, high- and band-pass filters, the Wave features a multi peak filter, comb filter, and a format filter, which creates vowel effects. Filter parameters can be modulated via the dedicated ADSR envelope, velocity, any of the LFOs, or the Modulation Envelope. Using Morph Grouping you can even modulate the modulators!
Morphing
Nord's unique Morph Grouping technique allows you to alter the setting of virtually any sound-related parameter in real time with the modulation wheel, control pedal, note velocity or note number. You can have the filter open up as you strike a key harder, or use the modulation wheel to change the amplifier envelope from pad- to pluck-style at the same time as the filter resonance is increased. Several Morph setups can be used simultaneously, allowing you to change your sound drastically as you play. Complex Morph scenarios are available, and setting them up could not be easier or more intuitive - simply hold the corresponding Morph controller button and tweak the parameters all you want.
Effects
The effect section gives your sound a final touch. Whether it is just a small amount of reverb, chorus, a massive delay, or tube-style overdrive, your sounds become more dynamic with rich effects without having to use outboard gear. Five different reverb algorithms are provided, from a small room to a large hall. The delay has stereo capabilities, and a tap-tempo function as well as selectable feedback amount. There are three chorus algorithms, and the tube overdrive can span from a subtle boost to crushing distortion.
Chord function
The Chord functions lets you add any number of intervals to the notes you are playing. Add a single 5th note for a classic synthesizer effect, or a chord - you decide! Simply hold the Chord button and play the intervals on the keyboard. Release the chord button and the intervals you just played will be added to any single note you play.
Stick to the pitch
The Clavia-patented pitch stick gives you pitch and vibrato control similar to what a guitarist or a violin player has. With no detent, or "dead-zone," you can apply very subtle vibratos, pitch changes, and everywhere in between.
In the right place
Ergonomically fitted around your left hand are pitch and modulation controls, the Program Change-dial, Octave Shift, Chord, Panel, and Keyboard Focus buttons. With all these controls in one place, quick and easy adjustments to major settings during performances are possible.
Built for performance
With 25 years of experience of designing instruments to be used by professional musicians, we know the importance of making the technology completely transparent. Control of your sound is paramount to performance, and that cannot be honored with just a few knobs for an endless array of submenu parameters. That is why we have a physical knob or button for every sound-related parameter on the front panel. No menus or page buttons should limit your expressiveness during a performance.
Achievements
Nord Wave was awarded Best Hardware Synthesizer by MIPA 2009.
MIPA is an abbreviation for Musikmesse International Press Award and can be compared as the "Grammy" of the Musical Instrument/Pro Audio industry.
Nord Wave was also rewarded with the Future Music Platinum Award (FM196).
Nord Wave
* Steinway, Wurlitzer, Hohner, Clavinet, Farfisa and Vox are trademarks of their respective owners and are not affiliated or associated with Clavia. These trademarks are mentioned here as a reference to a sound only. Leslie is mentioned to describe a connector standard.