Repairs

New Products

Pre-Owned Products

Information

Interesting Stuff

XPK-100
At A Glance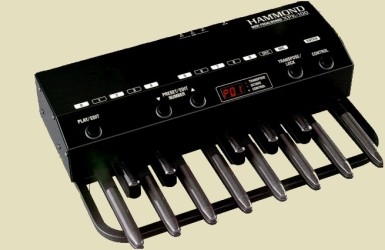 The Hammond Pro line division is proud to introduce the XPK-100 Pedalboard. Simply plug it in, connect it to your keyboard via MIDI, and you'r ready to enhance your playing with bass lines provided by your foot, leaving your hands free to play melody and accompaniment. And, when used in conjunction with Hammond's XK-2 and XB-1 Drawbar Keyboards, the XPK-100 allows you to create a full blown Hammond Organ.
Unique MIDI Setup:
In addition to a MIDI OUT port, the XPK-100 features two separate MIDI IN ports, thus allowing the easy use of two MIDI keyboards - An ideal twin manual MIDI system.
XPK-100 is ideal for use with the Hammond XM-1 Drawbar Module and the XB-1 and XK-2 Drawbar Keyboards which are three part multi-timbral. Also suitable for use with many MIDI compatible keyboards .
Specifications
13 Note pedalboard
Clear LED display
Transpose, Control, Preset Up & Down, Play/Edit, Preset'Edit
15 Presets with memory back up
Supplied with AC adapter and MIDI cable
Weight 24 pounds
Length 24 inches
Width 18 inches
Height 9 inches
Call for price

XPK-100
Repairs on:
AceTone
Adagio
Aeolian
Akai
Alesis
Allen
Arp
Baldwin
Behringer
Bell Duovox
Bontempi
Carvin
Casio
Conn
Cordovox
Crate
Elka
Emminent
Estey
Farfisa
Fatar
Fender
Galanti
Galaxy
GEM
Gulbransen
Hammond
Hohner
Kawai
Kimball
Kinsman
Korg
Kurzweil
Leslie
Lowrey
M-Audio
Moog
Nord
Orla
Rhodes
Rodgers
Roland
Samick
Sequential Circuits
Silvertone
Solton
Suzuki
Technics
Thomas
Viscount
Vox
Wersi
Wurlitzer
Yamaha
Young Chang
Zachary
..and others