Repairs

New Products

Pre-Owned Products

Information

Interesting Stuff

XK-1
At A Glance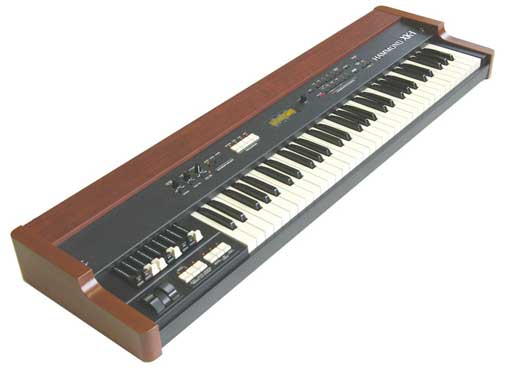 The Hammond XK1 Keyboard delivers incomparably fat and distinctively classic Hammond B3 sound in a slimmed down and portable package!
Powered by two VASE III DTW generators, the most advanced tone wheel generators ever designed, this New 61-note console utilizes many of the outstanding features and sounds of the awesome XK3 at a great price.
Housed in a new lightweight walnut cabinet (only 33 lbs.), the XK1 is all Hammond with velocity sensing Water Fall type keys, 9 honest to Hammond harmonic drawbars with 2nd and 3rd Percussion with Fast/ Soft decay, adjustable touch, velocity, 8 more keyboard voices (3 EPs, 2 Clavs, Vibes, 2 Solo Lead), an internal 2-digital-rotor Leslie (On/Slow, Fast, Brake), Vibrato, Chorus, Digital Overdrive, split keyboard/bass function, 132 presets, 20 character display, pitch bend and mod wheel.
Yep, it's all there and all HAMMOND!
Specifications
Sound Generator: 2 x VASE III as Digital Tone-wheel
Keyboard: 61-note Water Fall type keys with velocity
Harmonic Drawbars

1 Set: 9 adjustable drawbars
Drawbar Select: Tabs Upper, Lower, Pedal
Waveform: B-Type, Mellow, Brite (Upper and Lower), Muted, Normal, Synth (Pedal)

Percussion

Tabs: Second On, Third On, Fast Decay, Soft
Adjustable: Touch, Velocity, Decay (Fast, Slow), Level (Soft, Normal)

Extra Voice: 8 Instruments
Tuning

Master:430 ~ 450 (1Hz steps)
Transpose: -6 ~ 0 ~ +6

Effects

Internal Leslie: On, Fast, Brake, Digital 2 Rotors
Vibrato and Chorus: V1, V2, V3, C1, C2, C3, Upper & Lower On/Off, Speed: 5 (6.10Hz ~ 7.25Hz)
Overdrive: Digital Overdrive
Equalizer: 3 Bands
Reverb: 10 programs
Sustain: 5 Lengths (Pedal)

Internal Zone

Tabs: Split, Manual Bass
Adjustable: Map Low, High, Split Point, Lower Octave, Pedal Top Key

Combination Preset

12 Banks x 11 Numbers + Adjust
Switchable: Link/Independent

Controllers

Switches: Power On/Off
Rotary Controllers: Master Volume, Overdrive, Tone
Wheels: Pitch Bend, Modulation

Display: 20 characters, 2 lines with 9 control switches and Rotary encoder
MIDI Templates: 3 modes Zoned 3 parts and Keyboard Ch.
Connections

AC inlet
MIDI In 1
MIDI In 2
MIDI Out
Expression Pedal (phone jack)
Footswitch
Line Out Left and Right
Headphone
8-pin Leslie
Weight 45 pounds
Length 50 inches
Width 18 inches
Height 10 inches
Call for price

XK-1
Repairs on:
AceTone
Adagio
Aeolian
Akai
Alesis
Allen
Arp
Baldwin
Behringer
Bell Duovox
Bontempi
Carvin
Casio
Conn
Cordovox
Crate
Elka
Emminent
Estey
Farfisa
Fatar
Fender
Galanti
Galaxy
GEM
Gulbransen
Hammond
Hohner
Kawai
Kimball
Kinsman
Korg
Kurzweil
Leslie
Lowrey
M-Audio
Moog
Nord
Orla
Rhodes
Rodgers
Roland
Samick
Sequential Circuits
Silvertone
Solton
Suzuki
Technics
Thomas
Viscount
Vox
Wersi
Wurlitzer
Yamaha
Young Chang
Zachary
..and others